I can't precisely express how much I love breakfast food.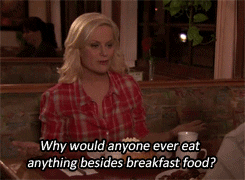 There's a local breakfast joint we discovered almost immediately after moving to this area. I've been eating the same sandwich from this place for eight months and I've always been too excited about it to get a picture. It's still not a good one, but I think it helps illustrate my passion for its existence.
This sandwich causes Sinon to deny any personal boundaries, appearing as if from nowhere to breath on your face while you eat it. There's nothing quite so amazing as some gooooood breakfast.